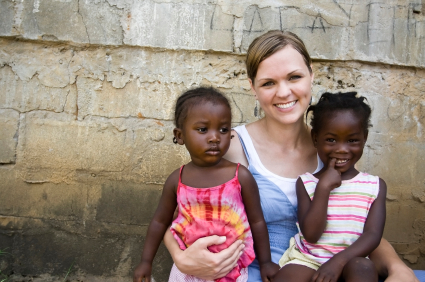 Missionary work calls many people. Missionary work is the act of spreading the word of god through the world. These trips are usually associated with long journeys into dark, mosquito filled lands. The trips tend to focus on remote places in Africa and Asia. They concentrate on what is referred to as the 10/40 belt. A geographic location in the southern hemisphere that contains 90% of the earths poorest and 95% of those who have not heard of Christianity. Many trips take missionaries to rural and city locations in the states.
Ministry Appeals to Every Age Group
Different locations and lengths of trip are available. Students can do missionary work for a couple of months between studies. Mission trips are available for adults, married couples and entire families. Short term missionary work is available for 3 month trips and packaged for students in the Youth, High School and College age. For older people or those settled there are adult and family trips too.
Alternatives for Raising Money for Your Trip
Depending on location and the length of your missionary trip the cost for the average missionary trip is $2,000 and up. Considering that a single person flying to Africa, $2,000 may not even cover your air fare. You may need help raising funds to help you afford this trip.
You can send a letter stating your intentions asking for money. Your letter should include the date of the trip, the goal of your goodwill, pictures of the country, then get to the chase and mention the cost of the trip. Ask in a straight forward way if they could help you and the church with this mission. Then wrap the letter up with best wishes and mail it. It is possible to raise $1,000 to $1,500 through writing a mission letter to your friends and family.
While you are waiting for your money to come in from your letter it would be a good idea to have a second source of income to supplement the rest of your trip. Fundraising can fit into your schedule by being available when you are. If you are a student you can run a fundraising campaign between semesters. You could even post notices and flyers on message boards on campus.
If you contact a professional fundraising company many will have fundraising campaigns that have a spiritual and environmental side to them. Some fundraising companies can offer you candles with bible verses on them or guaranteed to bloom flower bulbs. These campaigns along with the regular food campaigns that are available offer you products that are more in line with your mission objectives.