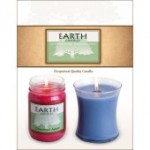 So you're doing a candle fundraiser with your group. That's great news! Our candles make beautiful presents, and many people will be happy to buy them from you guys. If you need help with this free-to-start fundraiser, though, here's some advice for successful candle fundraising.
First, decide which kind of candles you'd like your group members to sell. Earth Candles, for which the gift boxes and labels are made from recycled materials; Quote Candles, which come with inspirational messages; the Touch of Elegance III candle collection, which includes a choice of 27 candles and diffusers; and Journey of Faith, for which the labels are decorated with beautiful passages from Scripture. View all candle fundraisers
We recommend that you sell products from the Touch of Elegance III brochure: these candles and diffusers can be bought in our largest variety of fantastic fragrances, like Cinnamon Sticks, Lavender Fragrance and Buttercream Mint.
Order brochures for your group, and we'll send them to you—1 per group member—at no cost. The minimum order is 1 case, so, if you like, you can just try this fundraiser out to see how it goes. In fact, if you're not sure how many people will buy candles from your group, you can have your group members get the orders from your supporters first and then buy the brochures.
Next, find out if any groups in your area are holding a candle fundraiser with us. If there are, buy some candles from them to use as samples during your campaign. Your group members will be able to show them off while trying to convince others to buy candles from them.
Candles Make Great Gifts
So consider holding your campaign at Christmastime or before Mother's Day. Give your group members 2 weeks or so to sell as many candles as they can.
Encourage your group members every step of the way. Everyone works better with a little motivation! To help them even more, we offer incentives to the top sellers in your group: if you choose, your group members will receive a free custom T-shirt for every 8 candles they sell.
Once you've sold enough—or more than enough!—candles, fax us the Order Form and calculate your earnings; you'll keep half of what you made, no matter which type of candles your group sold. Then, we'll ship the candles to you so that your group can deliver them to your supporters.
You can also hold a candle fundraiser alongside a larger fundraising event. For example, you can hold a night-time walk in which supporters light the way with their own candles (à la the Light The Night Walk, which is held annually by the Leukemia & Lymphoma Society). After the event, ask your supporters if they'd like to buy some candles from you guys. They'll be more receptive to your cause now that they've enjoyed an amazing fundraiser with your group.
Holding any fundraiser is never easy, but candle fundraising will be easier with our helpful advice: sell candles and diffusers from the Touch of Elegance III candle collection, hold your campaign before Christmas or Mother's Day, encourage your group members throughout, and consider holding this fundraiser alongside a larger fundraising event. We hope that our advice helps your group meet—and exceed—its goals. Good luck!Created by Angela Mancuso