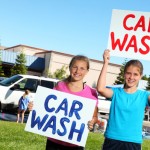 When it comes to making money for a group of any size, one great option is the classic car wash fundraiser. The labor is usually inexpensive, and people that are driving by a community car wash option, will most likely turn in, because it's lower cost than traditional options for vehicle maintenance. In order to make the most money with this fundraising idea, it's important to look into several key components, in order to make extra on top of the basic car wash principals that are usually found. Consider the following 3 components for a good fundraising option, and you'll make serious money for any event you have planned.
Car Wash Fundraiser – Where To Start
Component 1 – Wax
The first area to look into for your car wash fundraiser is the option of wax. This might seem a bit extreme for some, but it's not that hard. Waxing a car takes time, but if someone is willing to pay an additional fee, the waxing can be done swiftly with a little elbow grease and a wax that is purchased at an automotive shop. These waxes are sometimes slow to dry, but there are many options that can be utilized for quick drying jobs. The extra fee should be promoted as a "hand wax" option to give that special allure, and will most likely generate additional money for those that are in love with their vehicles.
Component 2 – Tire Treatment
For those that have specialty tires and rims, they'll want special attention made to those parts. For a little fee, a group can focus on those pieces with a fine tooth comb and tire treatment sprays. This will ensure that further opportunities for income are created past the basic car wash fundraiser elements and those that have spent serious money on rims and tires, will appreciate the low cost gesture and appreciation of their car. Make sure special attention is placed here so that rims shine and wheels are treated with care.
Component 3 – Detailing
Detailing might be something that can require a lot more work, but if a small time car wash can offer detailing at an additional cost, it can be something worth investing into when considering a car wash fundraiser. This option will require meticulous care of the interior of a vehicle, including and not limited to: vacuuming, dusting, dashboard treatments, and window cleaning. This option can drive the sales of peripherals sky high, and create a lasting income stream for any group looking to make a little extra money.
Car Wash Fundraiser – Include Those Upgrades!
When it comes to fundraisers, the basics should be covered at a low price. However, charging a little more for premium attention is something that is going to set up a car wash fundraiser opportunity from lower levels to the upper crust. Always invest in adding upgrades to any option that you choose, and you'll see a great deal more customers than just having soap and water. If you can offer the aforementioned 3 components, you'll not only make your quota, you'll make extra money for the future as well. Don't neglect the idea of investing further into your car wash fundraiser set up, and watch the financial picture become way clearer.Created by Angela Mancuso