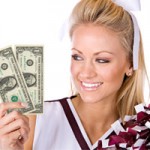 Want to do a few cheerleading fundraisers with your team? Here are some ideas to get you started!
Offer candles to your supporters
Why not offer candles to your fans for your next fundraiser? They make wonderful gifts for loved ones. Your supporters can choose from five candle deals: Collegiate Team Spirit Candles, which have the logos of your favorite college sports teams; Magic Melts, which are fragrance bars that come in beautiful natural scents like Sea Mist & Lavender; Quote Candles, which come with inspirational quotes; Touch of Elegance III candles and diffusers; and Earth Candles, whose gift boxes are made of recycled materials.
Not sure your fans will find something they like? Not to worry; we offer a wide range of candles with fragrances for every taste, whether your fans like the scents of fruit, flowers, or food. The many choices include vanilla raspberry, honey pear, pumpkin pie, gardenia, apple pie, and Ocean Breeze.
Or try restaurant discount cards
Another one of our cheerleading fundraisers is to offer Restaurant.com discount cards to your supporters. These are a great way for your fans to enjoy a night out on the town—and to donate to your team in the process. For this fundraiser, your team members will sell restaurant discount cards worth $50 to fans for $20 each—saving them a cool $30 per card. The cards can be used at more than 18,000 restaurants across the country, and your group will raise up to 65% profit. Not only is this fundraiser a clever idea, it's also quite convenient, since most people eat out every so often.
Hold a show for your fans
Dazzle your neighborhood with a magnificent cheerleading show. Most people know about cheerleading—but many of them don't know about the amazing stuff your team does. Have your team do the biggest, best show they can. Don't limit yourselves to traditional cheerleading moves, either; also incorporate other movements in your routine, like those from baton twirling, rhythm gymnastics, or jazz dancing. The show will let your supporters see what your team does—and how talented your cheerleaders really are.
"Rent out" your cheerleaders for a day
Many school sports teams have a group of cheerleaders…but not every sports team has one. Consider "renting out" your cheerleaders for a day to local sports groups, like your nephew's Little League team or your neighbor's bowling league. Why should football players get all the fun? Perhaps you could have your supporters pay a little extra for a customized routine. Your supporters will love that they get their own cheerleaders for their games and matches.
Hold a cheer-off
You don't need to be a cheerleader to do a routine! Hold a cheer-off in which your fans can be the stars, with a great prize for the winners. Encourage your contestants to get out there and give it their all! They'll develop routines to show off their moves and, of course, they'll get a great workout at the same time. They'll have so much fun cheerleading with their neighborhood friends; everyone will get a kick out of this fundraiser.
No matter which fundraising campaign you decide on, you're sure to find something that's great for your team, which both your team mates and your fans will adore. Good luck with your cheerleading fundraisers!